Shop By
Shopping Options
Compatibility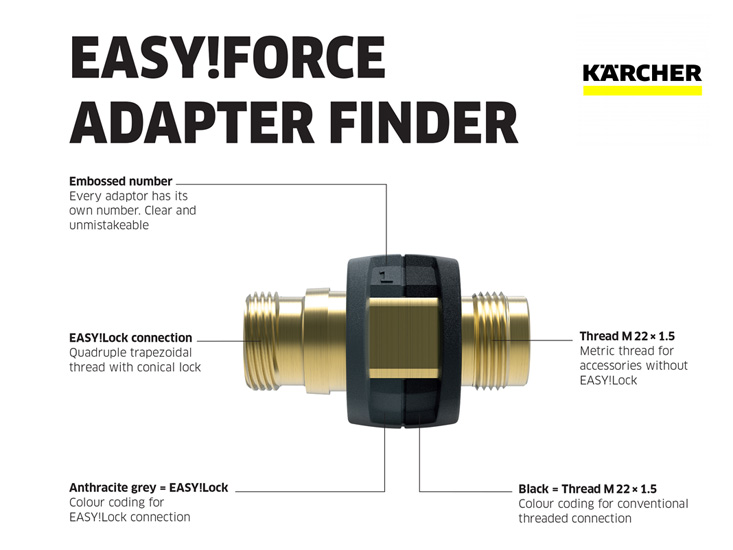 EASY!Lock

: Quick and easy connection

With Karcher's patented EASY!Lock quick locks, connection is quick and easy - 5 times faster compared with conventional screw connections.
Ready quicker – finished quicker.
Until now, setting up a high-pressure cleaner was very time-consuming. It involved connecting or disconnecting different interfaces. The same was true when changing accessories. But that's a thing of the past thanks to Karcher's EASY!Lock system which combines the advantages of a quick coupling with those of a screw connection - a time saving of about 80 %.
Unique, quick, safe and robust.
Nothing is safer, more reliable and long-lasting than a screw connection and nothing is as time-saving as a quick lock. But one thing is as good as the two combined: the Karcher EASY!Lock is as strong as a conventional screw connection and as flexible as a quick lock. The thread is locked via a cone and a simple 360° turn is all it takes to connect all accessories from high-pressure cleaners to nozzles – via a multiple thread with insertion aid. Easy!Lock is quick and safe, time and time again.
Progress is this easy.
With the innovative EASY!Lock system, weight is not an issue – it weighs no more than conventional screw connections. A small improvement with a big effect – the nozzle seal on the spray lance. This now sits directly in front of the retaining thread, which makes the seal far more durable and captive.
...So what does the perfect connection look like for you?
In order to cover the various interfaces, from the highpressure cleaner to the nozzle, as well as forward and backward compatibility, a total of 8 different adapters are available. This ensures that all existing machines and accessories can continue to be used together with the new machines and accessories with EASY!Lock connections.